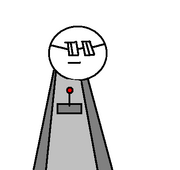 Tom is one of the main characters in Nerdz:the series. He is Daves best friend.
Appearance
Edit
He has a bald head, wears glasses and has a gray shirt with a joystick controller on it.
He is 22 years old
Gray is his favourite color
He hates carrots
He is the smart one of the duo
Ad blocker interference detected!
Wikia is a free-to-use site that makes money from advertising. We have a modified experience for viewers using ad blockers

Wikia is not accessible if you've made further modifications. Remove the custom ad blocker rule(s) and the page will load as expected.